Beginner Blogging Bootcamp [ADVANCED]
Learn How To Start A Profitable Blog In 30 Days!
CLOSED FOR ENROLMENT!
WE ARE MAKING SOME MAJOR CHANGES TO OUR COURSES WHICH WILL PROVIDE EVEN MORE VALUE TO OUR STUDENTS!
HOWEVER, TO BE ABLE TO FULLY FOCUS ON GETTING EVERYTHING DONE ON TIME, WE HAVE DECIDED TO CLOSE ENROLMENT TO ALL OF OUR COURSES UNTIL FURTHER NOTICE.
WE PROMISE IT'S WORTH THE WAIT & WE'RE EXCITED TO TAKE OUR COURSES TO THE NEXT STEP!
What if you could earn enough extra money to pay off your debts, mortgage, or go on a vacation?

Better yet, what if this extra money wasn't just a fluke and you could continually build up an online business that generates income for as long as you want?
What if finally you could become your own boss, work your own hours and live the life that you deserve?

Hey everyone, Chris and Taylor here from Beginner Blogging Blueprint. Over the past 3 years we have made over $300,000 with blogging! The crazy thing is that our numbers keep growing every month!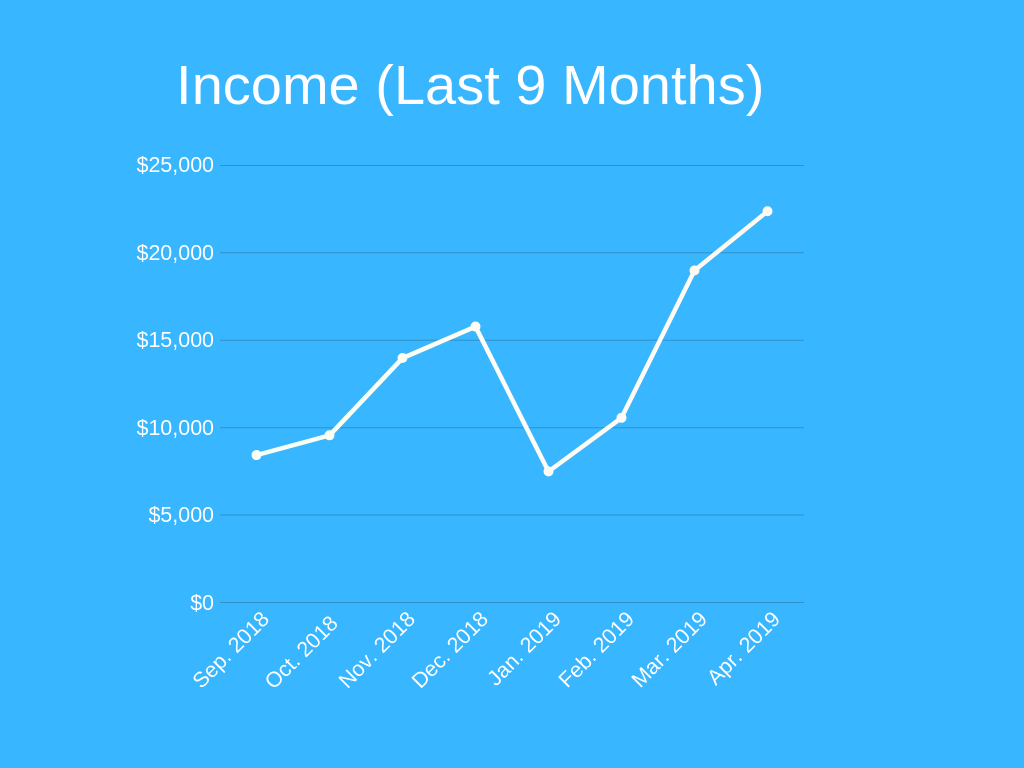 And no, neither of us are digital marketing gurus, or even that internet savvy. Living in a city with a poor economy meant that getting a job out of university was next to impossible.
So, we decided to start our own blogging businesses, and we haven't looked back since.
We want to be transparent here, so we need to tell you that in the beginning we failed miserably. We failed to the point where giving up truly seemed like the best option.
However, we gave it one more try, and oh boy, are we glad we did. We learned from all of the beginner mistakes we made, and then we took the time to make sure never to make them again!
So, here we are now. Throughout our blogging journey we took detailed notes of literally every strategy and outcome, and then we tweaked things around until they worked.
Now we're left with an insanely well converting blogging strategy that has fast tracked our results across all blogs that we have started.
This is OUR Dream Come True!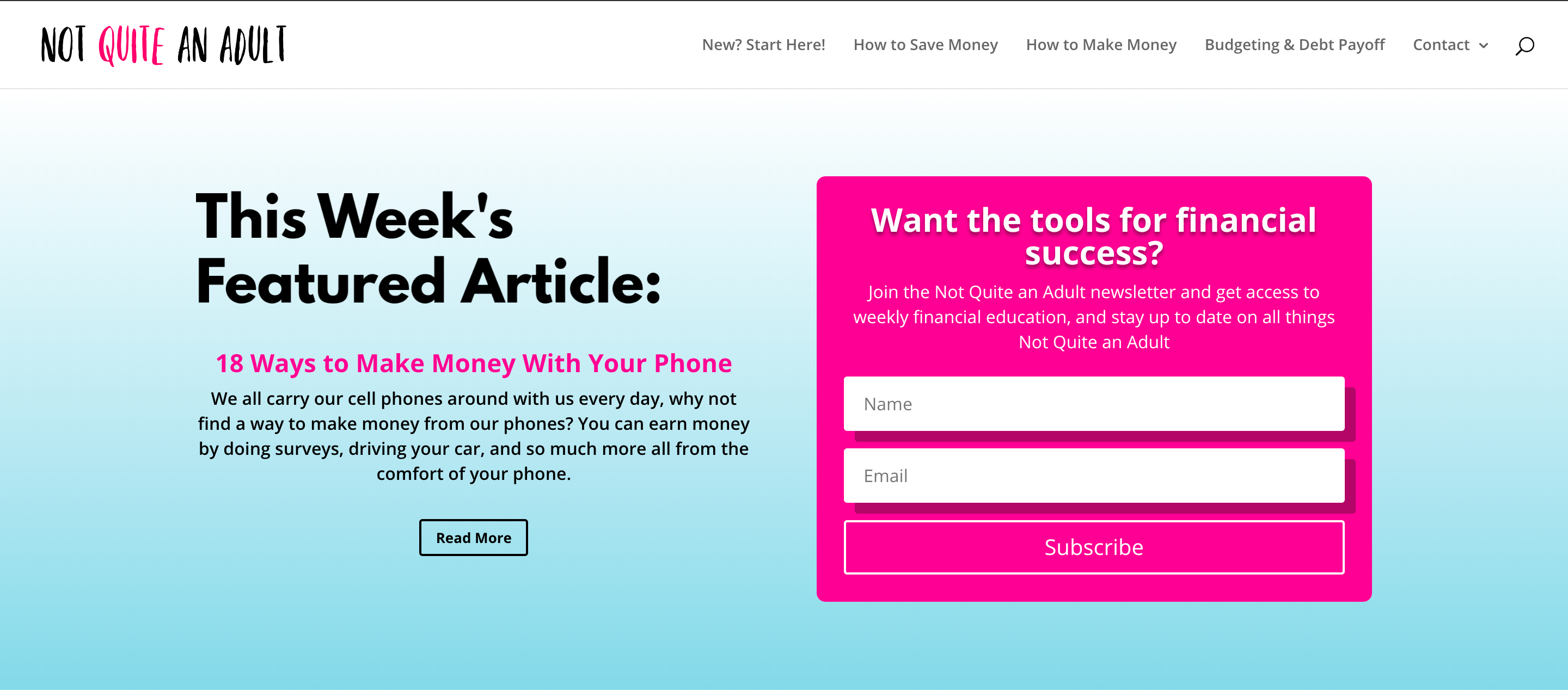 You Too Can Create Multiple Income Streams With One Blog and Be On Your Way To Achieve All Of Your Wildest Dreams!
We Show You How We Ranked A Brand New Website In The First Spot Of Google Search In Less Than A Month And A Half!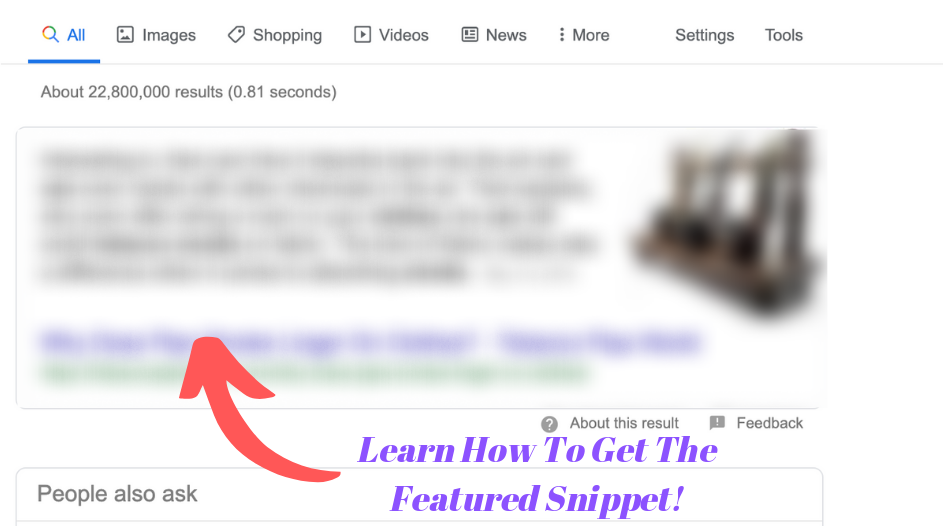 Are you one of those people who feel intimidated by the world of making money online?
Are you just looking for a process and a strategy to help guide you along?
We'll be honest with you...
If you don't have a proven, step-by-step blueprint to follow, you're going to do more harm than good with your blogging endeavour.
Because you will be wasting valuable time focusing on things that DON'T move the needle.
So, what's the answer?
A step-by-step, tested, hold your hand along the way program that shows you EXACTLY what you need to do, and when you need to do it.
In this beginner blogging course, we go into full detail what all the core concepts of blogging are, why they're important, and best of all, we show you exactly how to implement them because that is what we're doing with a brand new blog ourselves!
So, follow along as we build our next blog, and watch as the theory gets turned into practice right before your eyes!
Best of all, we created the course to be easy to follow, actionable, and with no fluff!
Before we show what's inside the course, let's take a look at some of the most common mistakes beginner bloggers make (we've been there too).
3 Common Beginner Blogger Mistakes
1. Picking The Wrong Niche
The truth is, most beginner bloggers focus way too much on picking a niche based on some article they read about "The 50 most profitable niches". These articles, for the most part, are absolutely unhelpful, and in many ways even dangerous for your business.
Always focus on your interests, and then do the proper research to determine whether or not your niche idea is a good one. We have a whole unit that teaches you exactly what to look out for!
2. Writing Blog Posts Based on What You Feel Like
Almost all the beginner bloggers that we talked to just wrote blog posts as they felt like it. There was no pattern...no strategy… it was just all over the place.
When it comes to profitable blogging, you need to make sure to have a good strategy in place, with a huge list of blog post ideas, before you even start writing!
3. Not Taking The Time to Promote
This is a big one. Most beginner bloggers think that blogging is all about writing, when in reality, most of your time will be spent on maintaining your website, and promoting your content. The more content you have, the more time it takes to promote.
We have a solution for this so that you won't feel like ripping out your hair at any point!
Here's a screenshot from one of our websites that applied the exact strategies that we present in the course: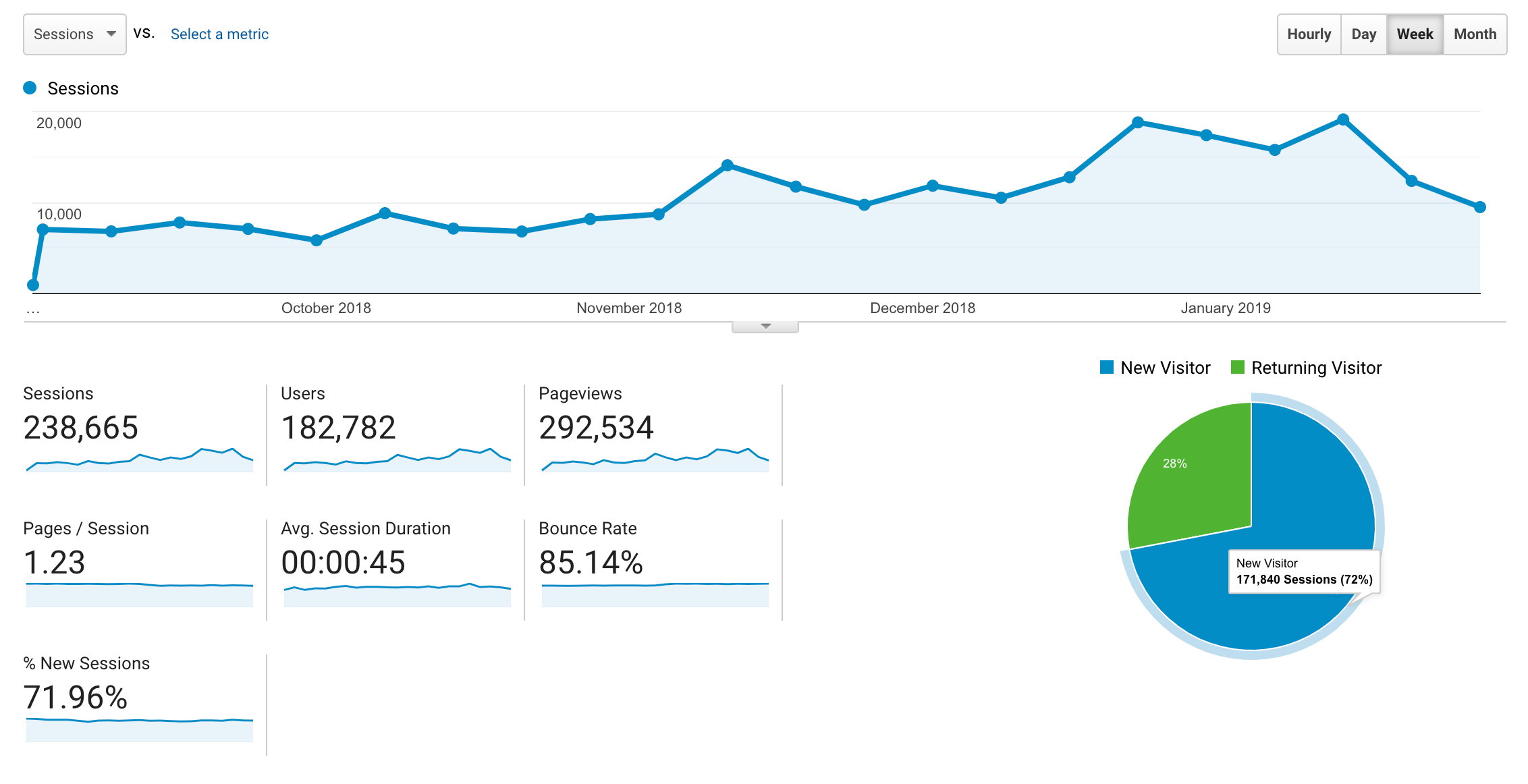 Who is Beginner Blogging Bootcamp For?
People who are sick of the 9-5 and have a strong desire to start their own business, without investing heaps of money… If you are committed to making a change in your life and creating new streams of income, then this course is for you!
Beginners… This course is designed to help walk you through all the steps that you need to take in order to build up a profitable blog.
People who want build something completely from scratch and watch it grow… One of the greatest things about blogging is that you get to create something from scratch and watch it grow up to become a money making machine.
Who is Beginner Blogging Bootcamp NOT For?
In a nutshell… those people that believe that blogging is a get rich quick scheme...
If you truly believe that you can make a full time income after a month, then this course is most definitely not for you.
No course in the entire world will be able to give you the knowledge to build a full time income in a month. You may see them everywhere, but the simple truth is that money doesn't come easy, and no course has the cheat codes to bypass hard work and strategic decision making.
Personal blogs that are not keen on becoming profitable… This course is very much about providing the blueprint so that you can build up a profitable blog. All of our emphasis is on profit, so if you have a personal blog, or simply would to build a personal blog, then this course is not for you.
Everybody on this page has one thing in common...
You are looking to make money without spending a bunch to find out how!
FAQ
Do I need to be good at writing?
NO - We teach you all about effective writing for blogs. You will have a simple to follow blog template as well to make things easier. Just follow some simple steps and you're well on your way to writing profitable blogs. Absolutely no writing experience is needed here!
Do I need previous blogging, or online business experience?
NO - There seems to be a common misconception that blogging experience is a must to be profitable. That is simply not true. We are here to give you all the details and all the skills necessary to make your first blog a money making machine.
Do I need to invest a large sum of money to make any returns?
NO - The only investment required to make a profitable blog is for hosting. Using the link we provide in the course, we are able to offer you a great deal on hosting through Siteground. Your total investment comes to about the price of a cup of coffee per month!
Can I find this information online for free?
NO - Information online is quite scattered and incomplete. We offer a very detailed, step by step walkthrough of what you need to do to build your blogging business. In fact, we started a brand new blog within the course so that you can see a live example of how it all works!
What format is the content delivered in?
VIDEO - Everything is in video format. We believe the best way to learn is to use visuals and videos, so that's exactly what we did!
Does this actually work?
OH YES - This definitely works. Of course, your results are dependent on your work and time input, but we have tested all of our course content throughout multiple blogs and have seen staggering results every time!
How can I contact you?
The best way to get a hold of us is to send us an email at [email protected] . We'll be sure to get back to you within 48 hours.
Your Instructor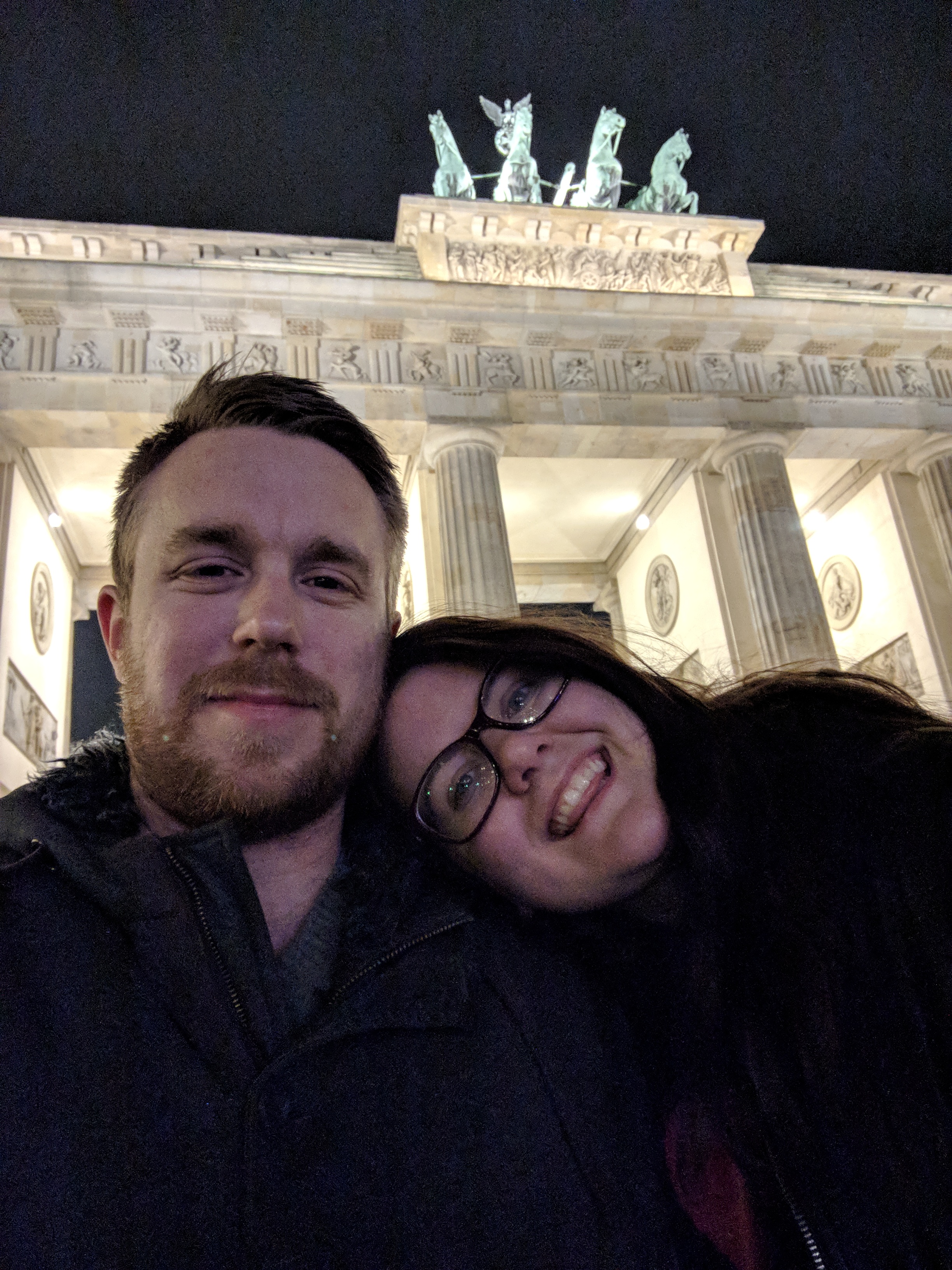 We are Taylor and Chris, and we run the website beginnerbloggingblueprint.com. A couple of months ago we decided to take our teaching to the next level, so we worked non-stop to develop content for beginner bloggers, called Beginner Blogging Bootcamp. You're likely here because you saw our free quick start guide (and we really hope you find it useful).
We weren't always in the position of teaching people about the world of blogging.
Just 3 years ago, Taylor graduated University with a degree in business. But guess what. Finding a job was near impossible. And student debt is a very real and scary thing. So she decided to start her own blogging business (notquiteanadult.com) and has built it to an impressive level. In fact, any job she would have right now would leave her with less than half the monthly income she has now.
Around the same time, Chris was at a crossroads. A bad job, a poor local economy, and A LOT of student loan debt. So he decided to start his own blog(s) and learn everything there is to learn about digital marketing. 3 years later, he sold 3 profitable blogging businesses to focus on Beginner Blogging Blueprint, and another not so secret passion project blog.
Frequently Asked Questions
When does the course start and finish?
The course starts now and never ends! It is a completely self-paced online course - you decide when you start and when you finish.
How long do I have access to the course?
How does lifetime access sound? After enrolling, you have unlimited access to this course for as long as you like - across any and all devices you own.
What if I am unhappy with the course?
We would never want you to be unhappy! If you are unsatisfied with your purchase, contact us in the first 30 days and we will give you a full refund.